It started with a car dealership…
In 1979, Bascilicato, the Systems Analyst for Lithia Motor Company, started Tekmanagement with Lithia as the sole client focus. As the years went by, Tekmanagement began supporting other companies as well. In 1990, an escapee from the "corporate rat-race" in the San Francisco Bay area joined the growing business — meet Scott Christopherson.
Scott was ready for a change of pace. A visit to Southern Oregon to see a friend became a pivotal moment in Scott's future; he decided to quit his corporate job and move his family north. "I wanted to live in a nice place—with small communities and a view of the mountains. I was willing to be a bus driver if I could just live here."
Scott's engineering and management background in the high tech industry landed him a job at Tekmanagement, where he bought into a partnership with Gerry Bascilicato. After Scott spent several years working at Tekmanagement, he was able to buy Bascilicato's share of the business. Today, Scott and two other partners, Jason Ritchie and Jason Stevens, manage Southern Oregon's oldest IT company.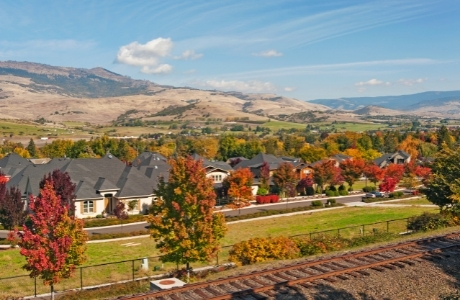 Tekmanagement's mission is to work alongside businesses to provide secure IT support and infrastructure so that business owners and employees don't have to worry about their technology. Tekmanagement keeps everything up-to-date, recoverable and secure —which is becoming more of a concern in a world of constantly growing cyber threats. Fast-paced companies that base their business on the ability to use phones and computers can lose thousands of dollars when technology is down for even an hour.
Tekmanagement has been able to recover data and get systems back up and running—within a matter of minutes if a client's disaster recovery needs require this. Grateful clients become permanent clientele, and for someone like Scott, who considers customer retention Tekmanagement's largest success, this means that the company must be a "champion of technology," and keep on top of the latest trends.
The staff at Tekmanagement, who hold various technology and security certifications, follow a life-long learning principle, consistently educating themselves on how to use the rapidly evolving devices that people employ in their companies.
"Tech in general, changes constantly," explains Scott. "It follows Moore's law." In simple terms, this means that the speed and capability of technology is expected to double every two years, resulting from the increases in transistors and microchips. Of course, most practical business owners don't care about Moore's law on a daily basis. "They just want their tech to work properly," says Scott. "And making sure it works is our job."
The staff of 30 (including marketing, sales, finance, and management teams) is ever-growing, and Tekmanagement is now aiming to acquire other companies, too, which will provide further resources for their customer base.
With a footprint that's international and a good-neighbor motto that's undeniably local, Tekmanagement keeps both innovation and customer care top of mind. In this way, the company is meeting its promise established over 40 years ago — to keep business engines running by syphoning the trouble out of IT.