September 23, 2013 is a compliance deadline date for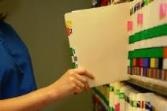 the new HIPAA rules. If you are in the healthcare field then here is a quick overview of what this means.
Changed the data breach law. Loss of device presumed to be a breach, few exceptions.
Changed patient access to data requirements.
Changed authorization requirements for sale of health info, and using it for marketing and fundraising.
Genetic info cannot be used for underwriting.

Business Associates now required to follow similar safeguards & standards as Covered Entities. BA definition includes 'non-Covered Entities but someone who does come in contact with PHI and ePHI'. The following are some examples: shredding compainies, IT companies, Lawyers, collections agencies, Cloud vendors, online backup compaines, etc.

New Business Associate agreements will need to be put in place.

Replace existing agreements by September 22, 2014
We have found that many healthcare providers have not done a recent Risk Analysis, now would be a good time to do one. If you need help understanding what this means for your practice or business please give us a call and we would be happy to assist you, 541-779-4777.