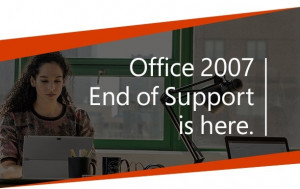 What does this mean for your business?
No new security updates

No new features, updates or bug fixes

Microsoft product support to fix
issues is not available

No online technical content updates
As Microsoft Office user and valued customer, we 
want to remind you that Office 2007 AND Office for Mac 2011 
are retiring on October 10, 2017.  It's important to ensure your business is protected, which is now more difficult without security updates, new features, bug fixes or other updates.
Upgrading is easy and will keep you well protected. Tekmanagement 
has multiple solutions for your business to limit disruption and deliver the latest features and benefits from Microsoft Office.
Contact us today to upgrade without any interruption to your business. (541) 779-4777
For more information, visit these links: